Apr 19 2015
I really enjoy reading. A whole world opens up, leafing through the pages. But for the last few years I've been doing it far to seldom. Lately I've been trying to get back into the habit. These are some of the books I've read recently.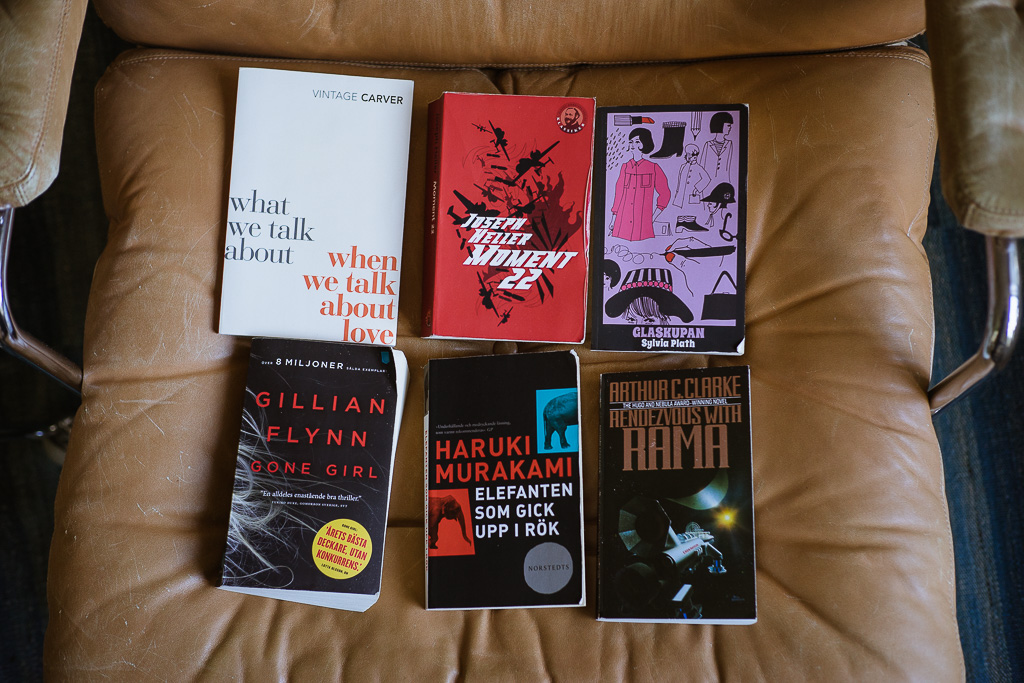 The Bell Jar
Sylvia Plath
Recommended
A captivating time capsule about New York, youthfulness & insanity in the 60s. Twisting, dark & monotonous & funny at times. A depressing read knowing the authors fate.
---
Catch 22
Joseph Heller
Highly recommended
An intricate and brilliant mess contradictions. A sense of constant confusion, but also one of intense presence. I still find my way around Pianosa in a Jeep.
---
Gone Girl
Gillian Welsh
Recommended
Manipulative page turner with well written characters and believable events. Strong sense of place makes this an excellent candidate for a movie…
---
Rendezvous with Rama
Arthur C Clarke
Highly recommended
Hard science fiction made surprisingly straight forward. A captivating adventure by one of the masters.
---
What We Talk About When We Talk About Love
Raymond Carver
Masterpiece
Each short story in this collection is like a punch to the gut. Every sentence masterly crafted, telling everything but nothing more.
---
The Elephant Vanishes
Haruki Murakami
Highly recommended
These short stories are so far the only thing I've read by Murakami. The tone is unique & fascinating. Will be back for more.